Concur for mobile goes where you go
Our mobile solution makes your smartphone even smarter—and life a little easier.
Mobile apps for any device.
Concur for iOS
Concur for android
Go to Google Play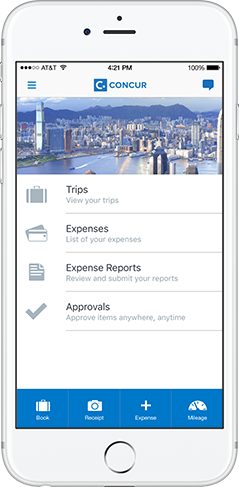 Concur Expense: Tell expense pain to hit the road
Concur® for Mobile complements our Web based solution, allowing you to manage anything expense and or travel related, wherever you are. From booking and managing itineraries to capturing receipts and submitting expense reports, your smartphone can do it all with Concur:
Capture receipts with your smartphone, then ditch the paper.
Immediately approve or reject expense reports via manager access.
Add car mileage to an expense report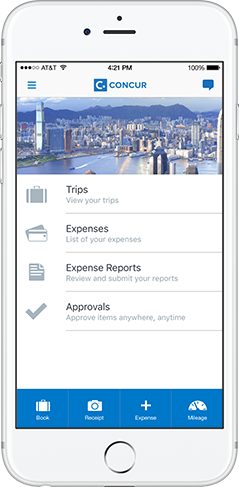 Count on world-class security
The Concur® Trust Platform with PCI Compliance, ISO and SSAE 16 certifications are combined with data encryption and remote wipe capabilities to ensure a secure solution. Credit card details and personal data are never exposed or stored on the mobile device and remain securely in Concur's world-class data center.