6 Ways to Save on T&E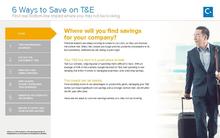 Rapid changes in technology and traveler behavior are driving significant change in corporate travel, so businesses need modern solutions to take control of employee spend. In fact, manual processes are impacting your bottom line in unexpected ways, costing you more than you think.
We uncovered six ways in which automating with modern solutions can help uncover savings where you may not be looking.