Partners In Intelligent Growth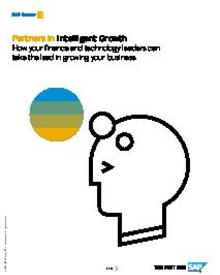 No CEO or business owner has ever been satisfied with the status quo. From scrappy startup to worldwide enterprise, these company leaders come to work every day with one thing on their mind: growth. In fact, according to a recent Gartner study,1 growth is the top priority for CEOs. Growth isn't so much a goal as it is an assumption; the only question is how to achieve it.
While yesterday's businesses used to drive growth through product, sales, or productivity improvements, today's companies now focus on mergers and acquisitions, IT-driven digital transformation initiatives, and workforce capability improvements to achieve their growth goals. As a result, today's company leaders are looking to their finance and IT teams to step up and take greater responsibility for how the company scales.
For finance leaders, it's no longer enough to be good at balancing the books, while IT leaders need to think far beyond just keeping the servers running. These two roles are now expected to do nothing less than take complete responsibility for the future of their business. No pressure.